Now I know I said a few posts back that I wouldn't be doing my monthly favorites that often but I went shopping quite a bit this month since it is finally summer so I thought I would share with you some of my favorite items this month.
Makeup/Beauty Favorites:
NYX proof it! Waterproof eye shadow primer- I have extremely oily eyelids and I used to have a huge problem with keeping eye shadow on all day. I also rub my eyes a lot and I found that this eye shadow primer stayed even after I rubbed my eyes. It is super smudge proof and it just stays all day long. For $6 it is a perfect primer and it is totally worth it
Maybelline Color Tattoo Metal 24 hr. eye shadow- I know I am really late to this trend but recently I have just been absolutely obsessed with the color tattoo eye shadow. I have the shade 55 "Inked in Pink" and it is a gorgeous metallic, rose, pink and I love it so much. It has the perfect amount of shimmer and it is super build able and it even works well as a base. I think the next time I go shopping I will have to pick up more shades of this eye shadow. If you haven't tried it, GO TRY IT, it is amazing.
Clinique chubby stick intense moisturizing lip colour balm- This balm is so moisturizing and creamy and the color goes on really well. The shade that I have is 07 "Broadest berry" and for me I think it is too dark but I just love the formula of the stick. Again I am going to have to pick up more shades, I love it so much.
Fashion Favorites:
I bought this gorgeous dress from Target last week and I think it is just amazing. It is so comfortable and flowing and I just love it. The pattern is gorgeous as well as the crochet detailing
I bought this dress from Target as well and I am in love with the sleeves and the fit. I find that skater skirts are the most flattering and this one is beautiful with the royal blue lattice detailing on the sleeves. It also has pockets which makes it an all around win for me
I got these cute sandals from, you guessed it, Target. These are really comfortable and can be worn dressy or casual which as I'm sure you know I am all about.
These type of flowing printed shorts are my favorite things to wear this year. I have 2 pairs from Target, this blue pair and another purple floral pair which I will show you next. These shorts are perfect to just throw on any day- going to the beach, wear them as a cover-up for the pool, going to a barbaque- anything and they are so comfortable. These shorts of course can be worn dressy and are just the perfect summer staple item.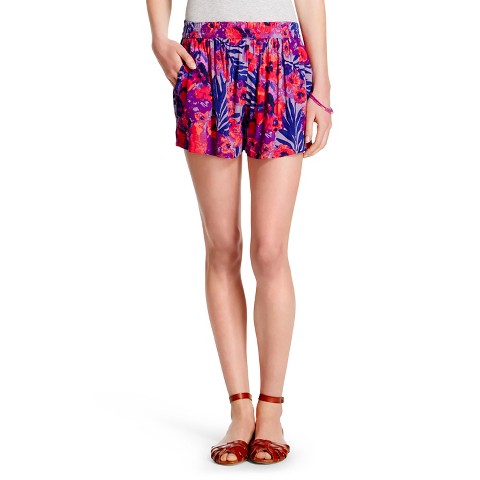 These are the other pair of comfortable shorts. I freaking love them
And there you have it! My short little post on my favorite things in June. Let me know what you think about any of my favorites if you have the same ones and tell me what your June favorites are, I would love to know. Anyway I'm going to wrap it up and I'll see you soon!
Love you lots <3